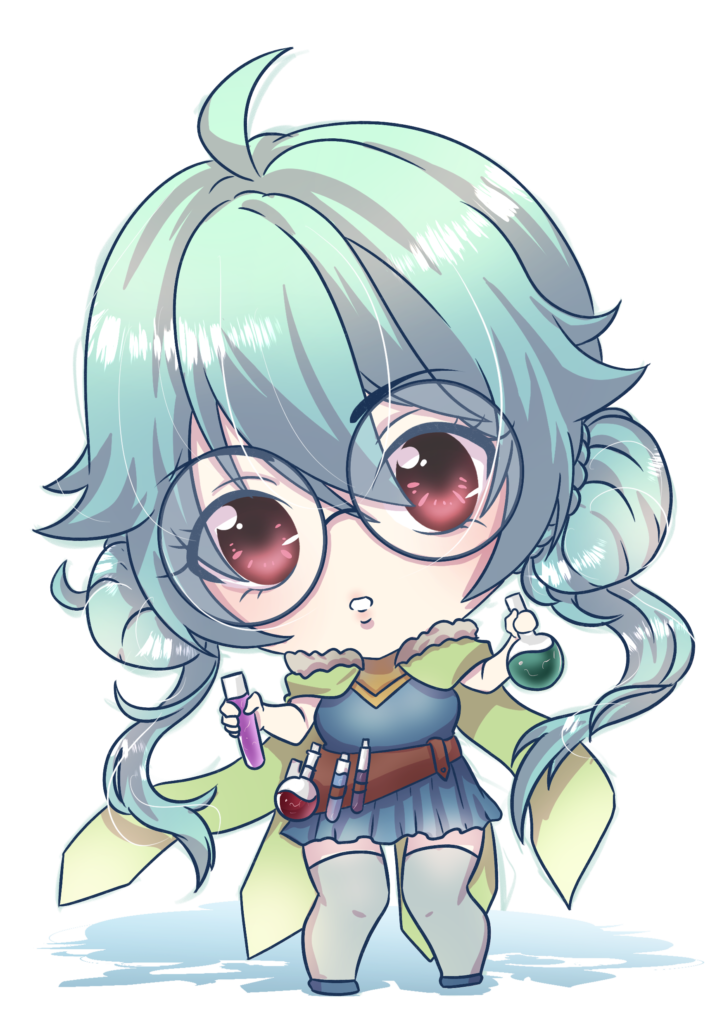 Name: Ann
Age: 23
Zodiac sign: Scorpio
Birthday: 03.11.
Favorite food: potatoes with sodium chloride
Class: Alchemist
Special qualities: likes books, keen to experiment, clumsy
Talent: brewing potions, metamorphosis, healing
There is a small house at a small crossroads outside of town. It doesn't look like much from the outside. Only a tiny wooden sign with a painted bottle above the door reveals that it must be a lovingly run shop for potions and adventure accessories. This little shop is owned Ann.

As soon as you step inside, a sulphurous smell hits your nose. A shy little girl sits at the counter, usually engrossed in a book. Despite her unassuming appearance, she and her shop are known across the country and notorious for the unique elixirs that can be purchased here. How notorious she is, however, depends on who you ask. Some call her a true genius while others curse her for being one of Ann's experiments has given them a green skin.

On the right side next to the counter is a complex apparatus made up of tubes, bottles, stills and Erlenmeyer flasks. This marvel of engineering, once built for a good friend Ann, but lately an individual part seems to be missing again and again. Ann firmly believes that the iron content of her screws is incompatible with the new formula of her love elixir, which is why they always evaporate. And therefore regularly buys new screws from a veiled lady.

She's been a lot more nervous than usual lately. If you ask her what happened, she'll disappear with you Cushions red head in the back room. It is rumored that she accidentally entered the entry list for the grand tournament for the next king.
Ann uses a mix of potions and elixirs that she concocts on the fly to surprise her enemies. While operating at close range, she is particularly strong against purely ranged classes. Ann has the strongest Buffs around game, but she has to be careful as these should only last a limited time, should her Buffs she stands there defenseless.

Their roles on the battlefield are: DD, Heal and tank.
Potions are the primary attacks of Ann, since their effects are so varied, nobody knows except Ann, what will happen. She can deal large area damage with the Flamethrower Potion, while the Potion of Clarity copies a random ability from another character.
All elixirs are powerful
Buffs
, which only work for a random number of turns. Mostly takes
Ann
adopt animalistic traits to gain the benefits of that animal. With the bear elixir, you should not compete with her in close combat. The Elixir of Reaction, on the other hand, protects against ranged attacks.
* all cards are watermarked. The texts are not displayed to prevent a copyright copy.
Erick Estratonautico is from Venezuela. While showing off his art on Instagram, he shares a lot of funny moments on Twitter.